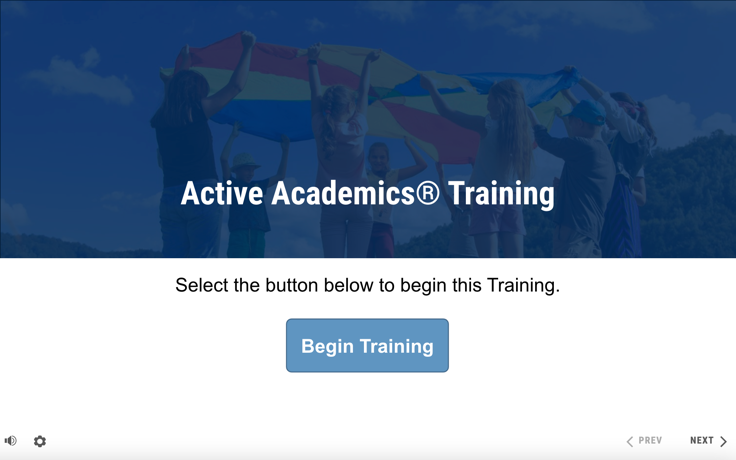 Members of the Center for ActiveWV and the College of Physical Activity and Sport Sciences at West Virginia University have launched a new online professional development resource for teachers, administrators, program coordinators, parents and others with an interest in promoting physical activity among youth. This free Active Academics® Training was created to help reach members of our educational communities with a resource to learn about physical activity recommendations and benefits, as well as tips for integrating physical activity in the classroom and throughout the day.
The training was developed in response to a changing climate, as more and more learning opportunities are now being offered through virtual platforms. The development team envisioned this resource as an innovative way to reach individuals nationwide who can use the knowledge and tools to become physical activity advocates in their schools, programs and communities.
Who should consider this training?
The Active Academics® Training will act as a great means for educators throughout the country as they strive to improve physical activity opportunities for all students. The self-paced, informative training provides a simple environment where busy educators can learn about the importance of physical activity in the classroom, while viewing different tools that they can use to adapt these practices. Additionally, pre-service teachers and students within teacher education programs can use the new resource to discover creative ways to embed physical activity during instructional lessons early in their professional development and community-based program coordinators can apply the training tools to boost physical activity and wellness in their curricula.
What will I learn?
The Active Academics® Training consists of five learning modules. Each module reviews different aspects of physical activity education and practice. The training gathers information from various national organizations like the Centers for Disease Control and Prevention, SHAPE America and others to provide participants with materials to successfully bring more physical activity into different learning spaces.
Content
Module 1 - The Benefits of Physical Activity
Module 2 - The Components of Fitness
Module 3 - The Components of a Comprehensive School Physical Activity Program
Module 4 - Registering with Active Academics
Module 5 - Navigating Active Academics®
I'm interested! How Do I Access It?
Request access to the training here: Active Academics® Training Request Form

Once you have requested access to the training, you will receive an automated email, within minutes, from our team at Active Academics® that includes a link to the training module. The training will take approximately 75 minutes to complete. At the conclusion of this training, you will be asked to fill out a brief post-training survey and will be awarded a certificate of completion via email.